Alpro Extrusions - Aluminium Extrusion Manufacturers - Get us know more

Alpro Extrusion [P] Ltd came into existence in 2010. The journey from manufacturing aluminium extrusion to becoming one of the best makers of Quality Aluminium Extrusions have been filled with accomplishments and accolades. Alpro Extrusion aims to have a global presence as a leading global manufacturer of high quality Aluminium extruded products. The endeavors of the organization are focused towards achieving all-round excellence. The organization seeks to accomplish a fusion of traditional methods and innovative concepts to supply the best quality extruded product. Alpro Extrusion manufactures wide variety Aluminium extrusions like extruded channel,extruded section or extruded profile that meet diversified usage.
Alpro Extrusion has been maintaining its utmost standards of precision and quality and founded on the philosophy of ensuring uncompromising satisfaction to our customers. We have excellent time delivery of all the versatile extrusion products and these products are adding a new dimension to the modern building construction technology and to our business. Alpro Extrusion [P] Ltd as the acknowledged market leaders have set up benchmarks for quality, timely delivery and client satisfaction. We have a unique combination of being flexible and an ability to react very quickly to changes in designs and specifications. This has ensured that our products and services to all our customers have been acclaimed internationally. From the beginning, we have always had a strong foundation of adaptability and experience. Always working very closely with customers, we have developed our products and services in tune with the market developments and requirements.
Meeting with customer's need and satisfaction is the true achievement
Alpro Extrusion believes and follows this only statement at the time of manufacturing the products. This idea has helped Alpro Extrusion to set a clear picture towards company's goal. Alpro Extrusion is all set to have a wide range of all kind extrusions in near future. Alpro Extrusion have well known in eastern part of the country.
What We Can Offer You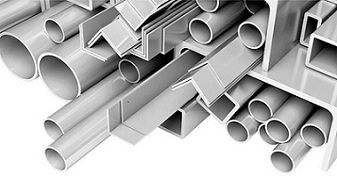 ALPRO EXTRUSION currently has automatic hydraulic presses with a production capacity of 3,000 MT per annum. The company offers the standard aluminium extrusions profiling and also is able to take care of specific designs and requirements.
Our Capabilities
Automated Hydraulic Extrusion Presses
Capacity: 3000 MT per annum
Die Library: 1000
profiles ranging from 10mm - 150 mm CCD
Section weight up to 17 kg per piece
Wall thicknesses minimum 0 .5mm - 20 mm
Cut lengths up to 6-7m
Standard alloy ranges